Last Updated on 03/07/2023 by Admin
The various kinds of health professionals are educated in separate schools but with considerable overlap in curricula and training requirements
Assignment Description:
Professional Development Assignment:
Based on what you have learned so far this week, create an educational presentation with detailed notes and recorded audio comments for all content slides that addresses each of the following points/questions. Be sure to completely answer all the questions. Use clear headings that allow your professor to know which bullet you are addressing on the slides in your presentation. Support your content with at least four (4) citations throughout your presentation. Make sure to reference the citations using the APA writing style for the presentation. Include a slide for your references at the end. Follow best practices for PowerPoint presentations (an example is located in the Resources tab) related to text size, color, images, effects, wordiness, and multimedia enhancements. Use the audio recording feature with the PowerPoint. Alternatively, you may use a smartphone or tablet to record yourself speaking, should you be unable to use the audio feature within PowerPoint.
Title Slide (1 slide)
The various kinds of health professionals are educated in separate schools but with considerable overlap in curricula and training requirements. They are, however, expected to integrate their training and work together after graduation. Identify the advantages and disadvantages of this approach to professional education in terms of costs, educational efficiency, and patient care quality. (4 slides)
An oversupply of physicians in many urban regions contrasts with continuing problems of access in rural and inner-city areas. Why does the mal-distribution of physicians persist in spite of the number of physicians graduated? (2-3 slides)
The health care delivery system now places increased emphasis on maintaining wellness and on promoting disease avoidance through healthy behaviors and lifestyles. What challenges does this new orientation pose for our existing system of medical education and training? (2-3 slides)
References (1 slide)
M4 Assignment UMBO – 5
M4 Assignment PLG – 4, 9
M4 Assignment CLO – 2, 4
Expert Answer and Explanation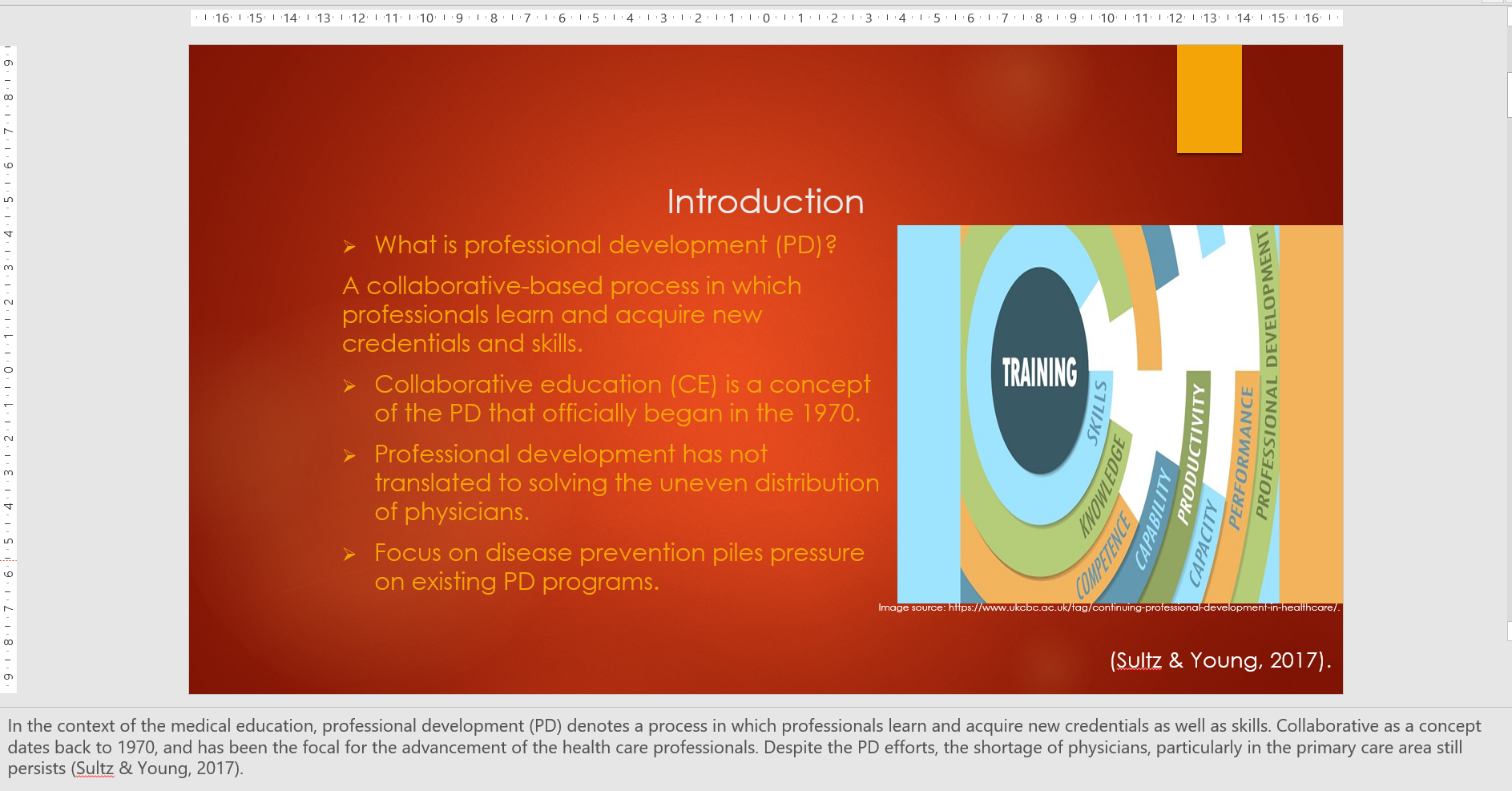 In the context of the medical education, professional development (PD) denotes a process in which professionals learn and acquire new credentials as well as skills. Collaborative as a concept dates back to 1970, and has been the focal for the advancement of the health care professionals. Despite the PD efforts, the shortage of physicians, particularly in the primary care area still persists (Sultz & Young, 2017).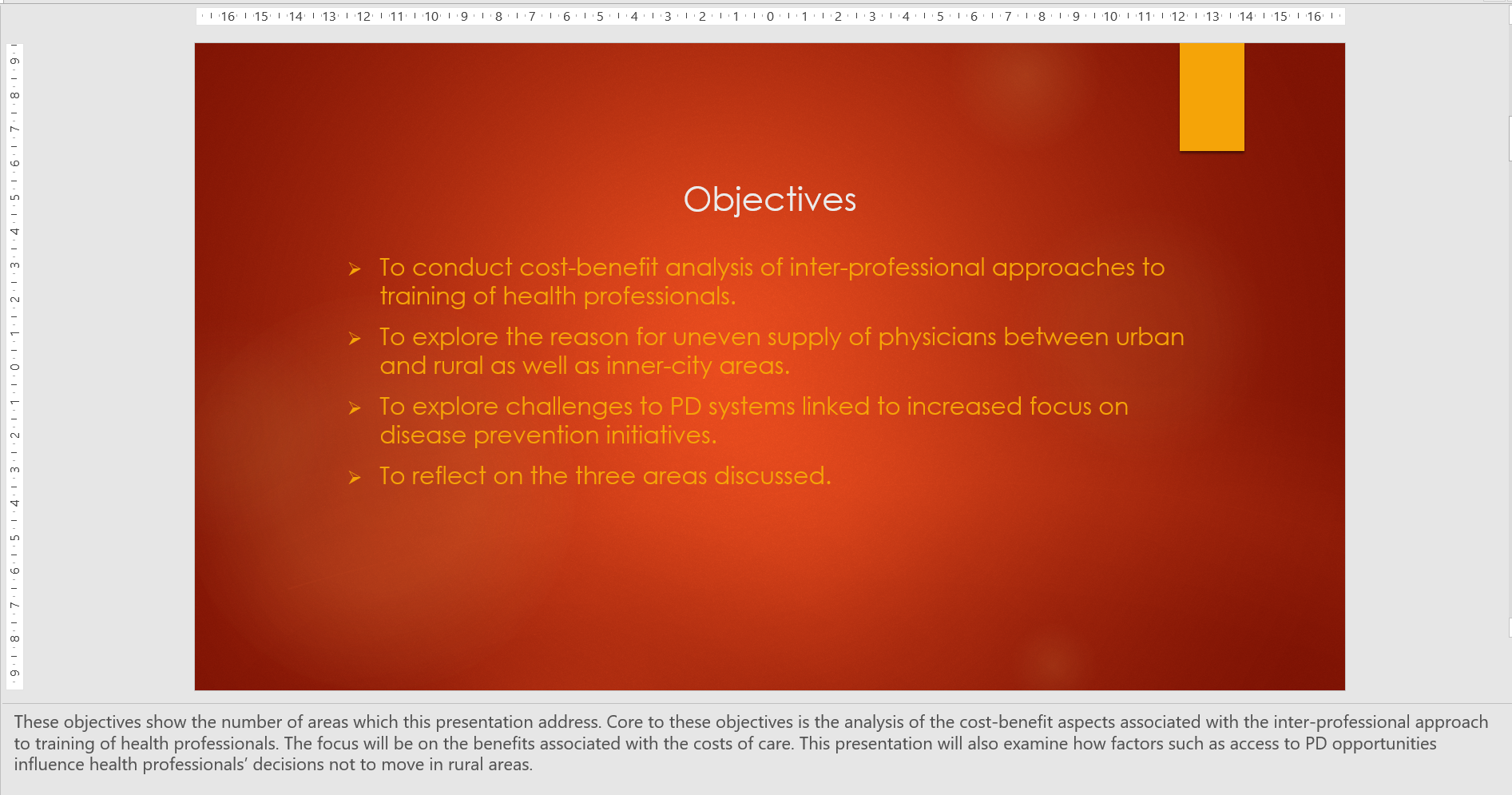 These objectives show the number of areas which this presentation address. Core to these objectives is the analysis of the cost-benefit aspects associated with the inter-professional approach to training of health professionals. The focus will be on the benefits associated with the costs of care. This presentation will also examine how factors such as access to PD opportunities influence health professionals' decisions not to move in rural areas.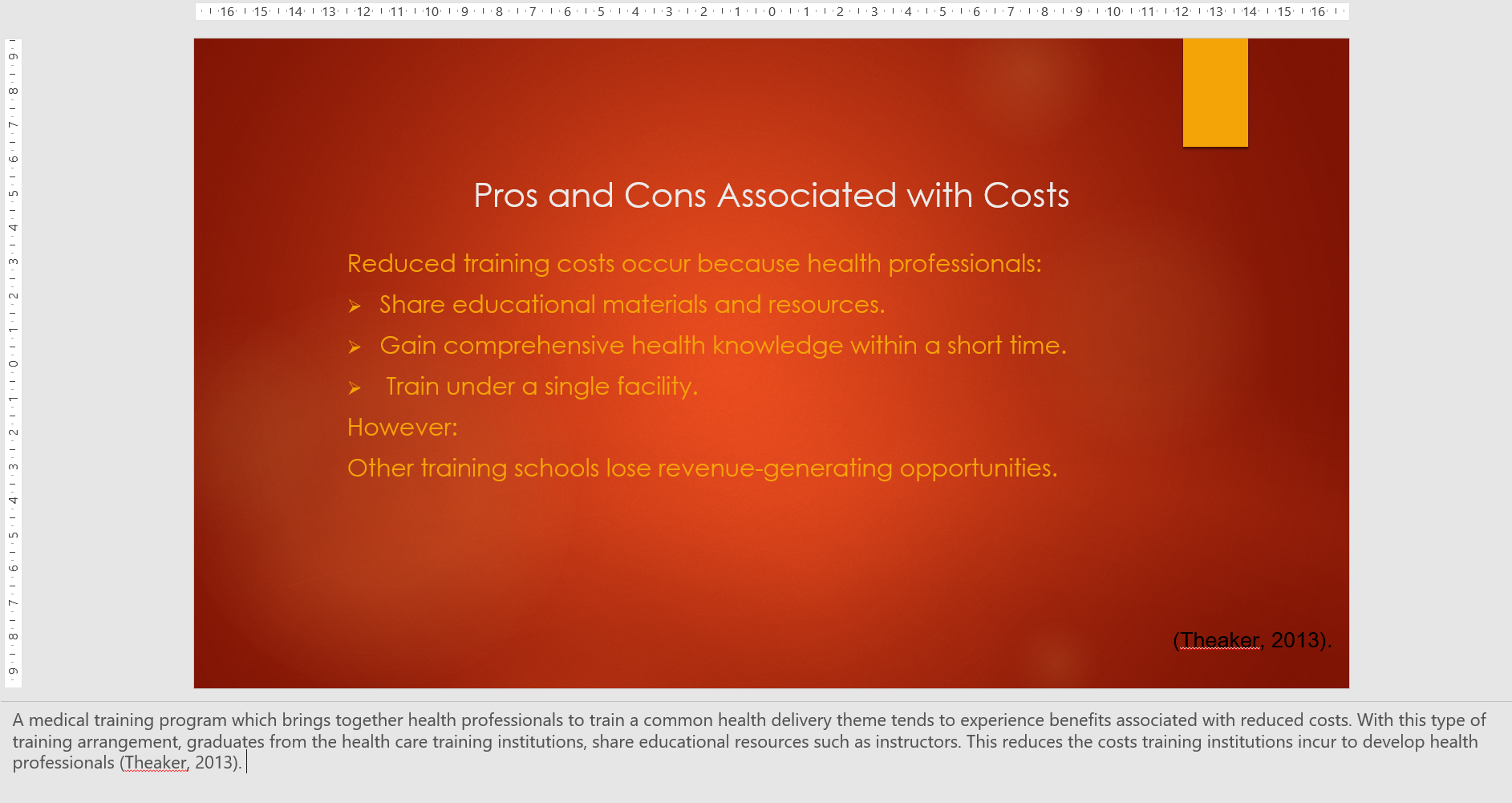 A medical training program which brings together health professionals to train a common health delivery theme tends to experience benefits associated with reduced costs. With this type of training arrangement, graduates from the health care training institutions, share educational resources such as instructors. This reduces the costs training institutions incur to develop health professionals (Theaker, 2013).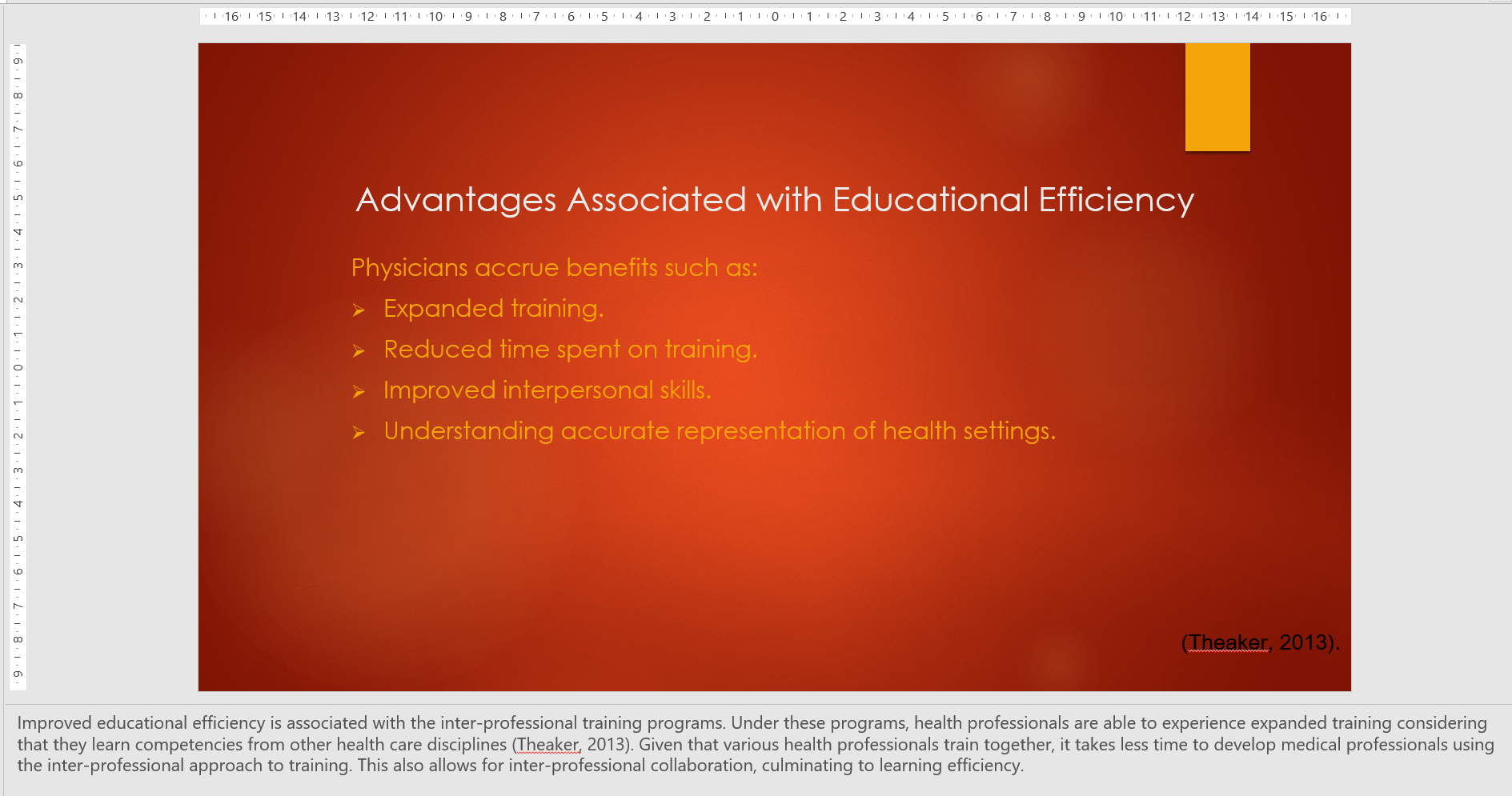 Improved educational efficiency is associated with the inter-professional training programs. Under these programs, health professionals are able to experience expanded training considering that they learn competencies from other health care disciplines (Theaker, 2013). Given that various health professionals train together, it takes less time to develop medical professionals using the inter-professional approach to training. This also allows for inter-professional collaboration, culminating to learning efficiency.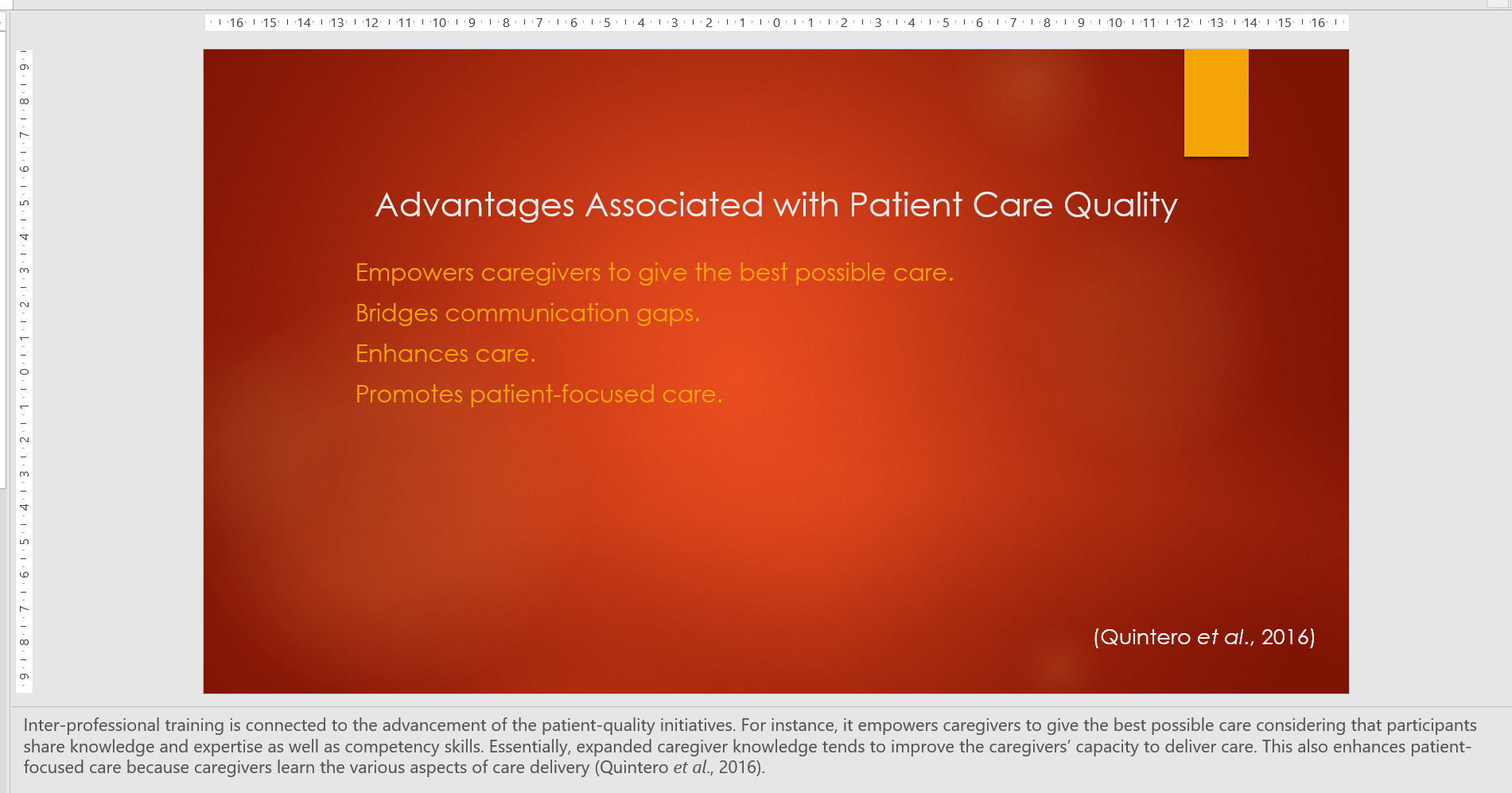 Inter-professional training is connected to the advancement of the patient-quality initiatives. For instance, it empowers caregivers to give the best possible care considering that participants share knowledge and expertise as well as competency skills. Essentially, expanded caregiver knowledge tends to improve the caregivers' capacity to deliver care. This also enhances patient-focused care because caregivers learn the various aspects of care delivery (Quintero et al., 2016).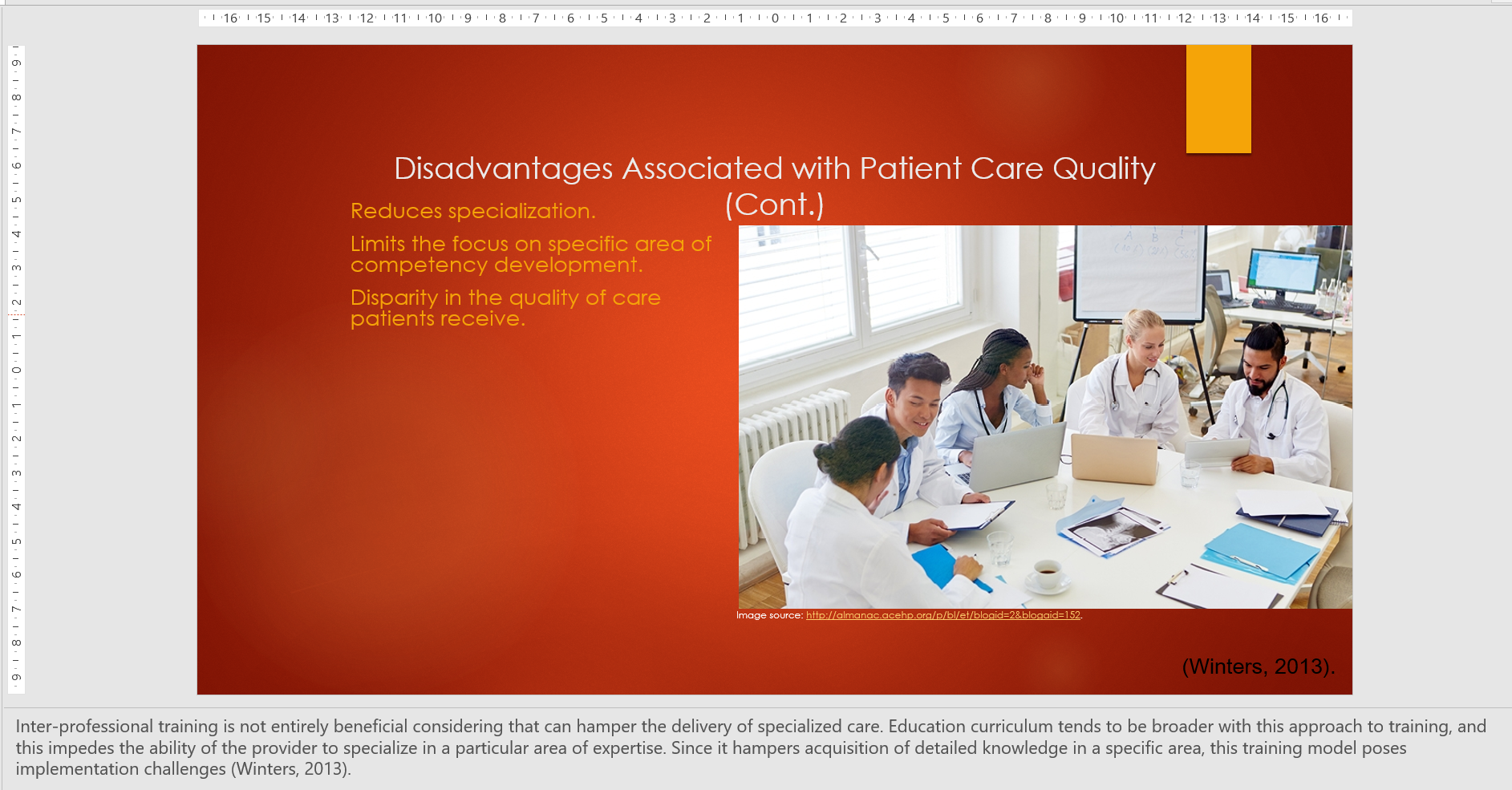 Inter-professional training is not entirely beneficial considering that can hamper the delivery of specialized care. Education curriculum tends to be broader with this approach to training, and this impedes the ability of the provider to specialize in a particular area of expertise. Since it hampers acquisition of detailed knowledge in a specific area, this training model poses implementation challenges (Winters, 2013).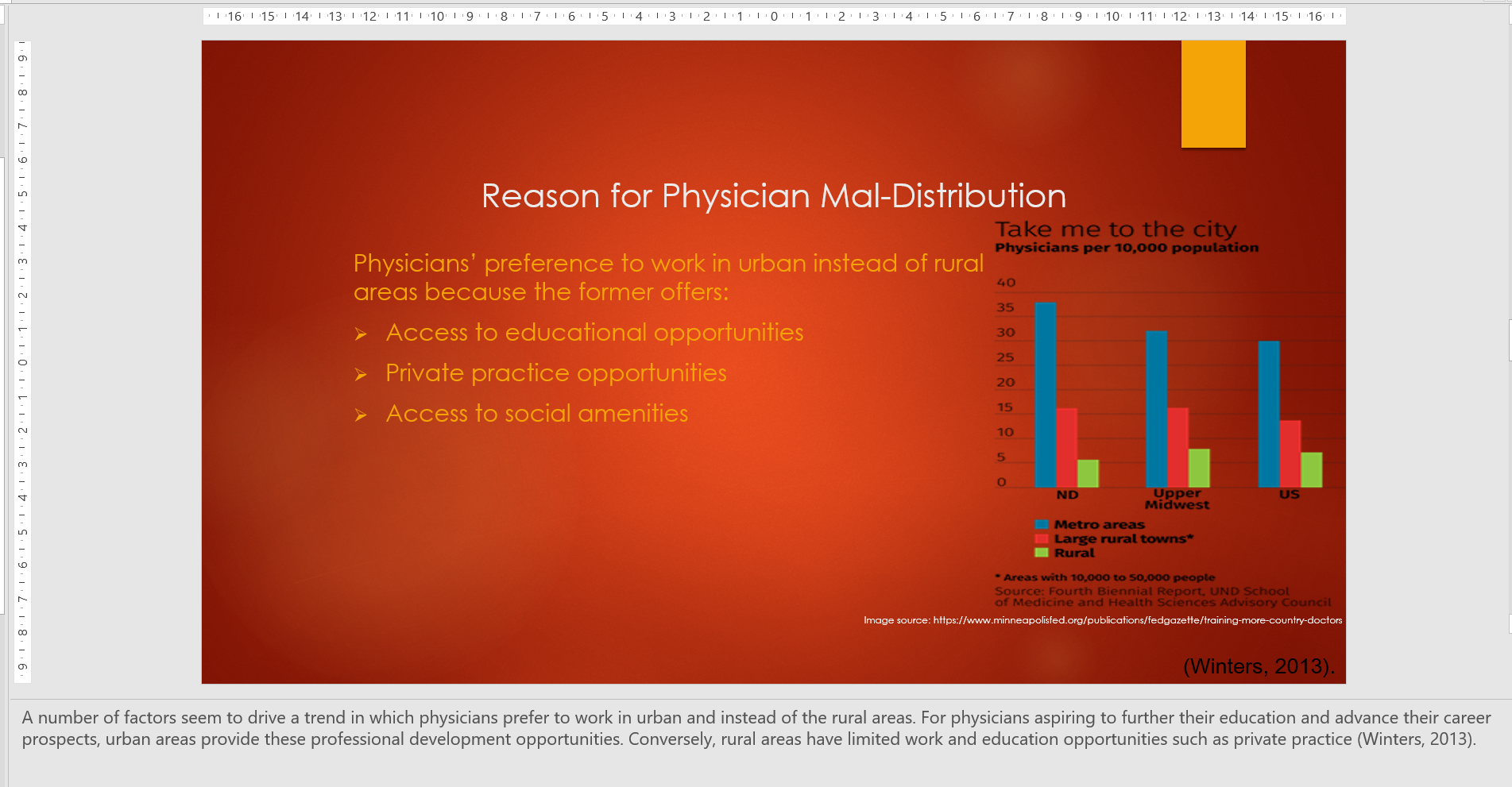 A number of factors seem to drive a trend in which physicians prefer to work in urban and instead of the rural areas. For physicians aspiring to further their education and advance their career prospects, urban areas provide these professional development opportunities. Conversely, rural areas have limited work and education opportunities such as private practice (Winters, 2013).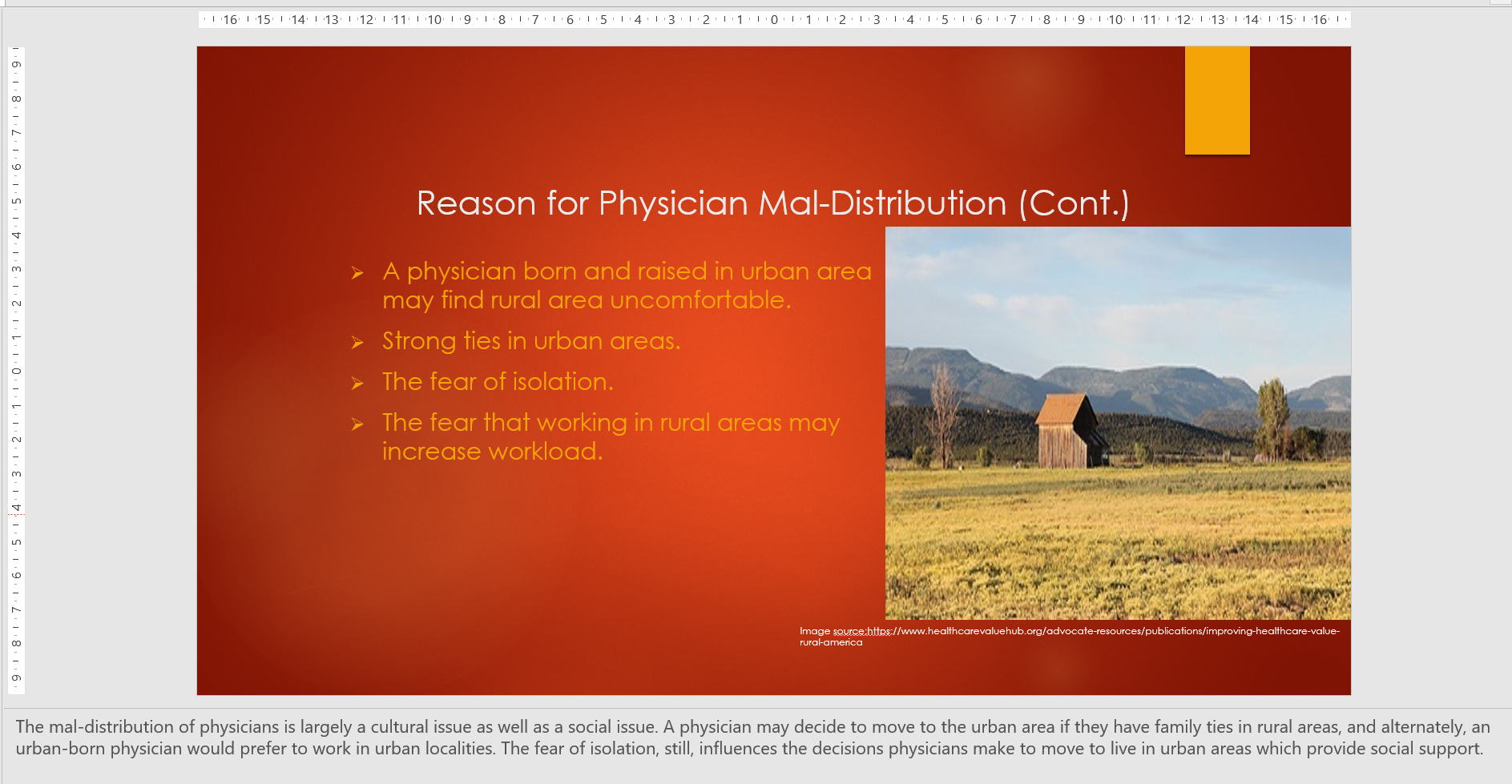 The mal-distribution of physicians is largely a cultural issue as well as a social issue. A physician may decide to move to the urban area if they have family ties in rural areas, and alternately, an urban-born physician would prefer to work in urban localities. The fear of isolation, still, influences the decisions physicians make to move to live in urban areas which provide social support.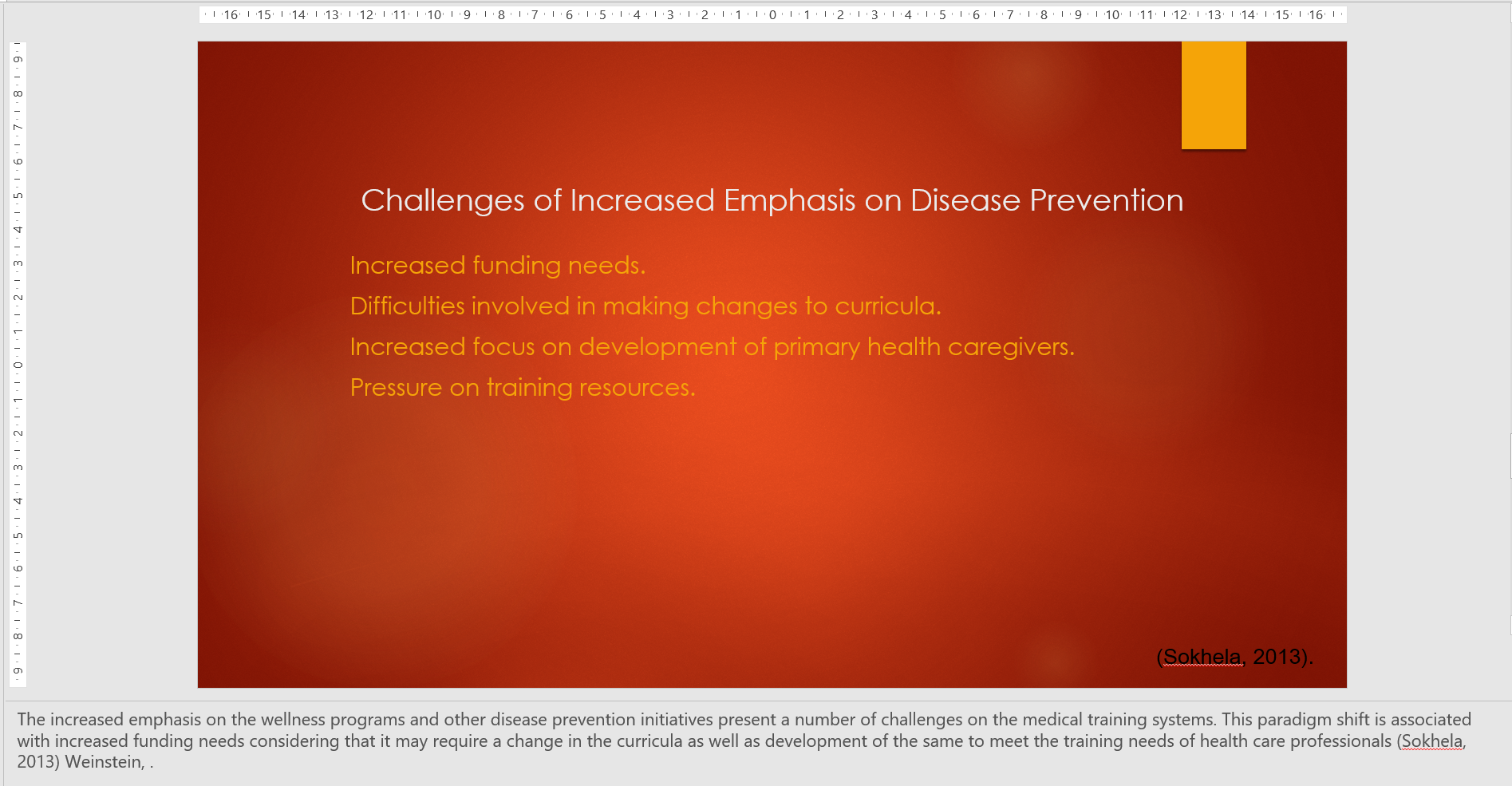 The increased emphasis on the wellness programs and other disease prevention initiatives present a number of challenges on the medical training systems. This paradigm shift is associated with increased funding needs considering that it may require a change in the curricula as well as development of the same to meet the training needs of health care professionals (Sokhela, 2013) Weinstein, .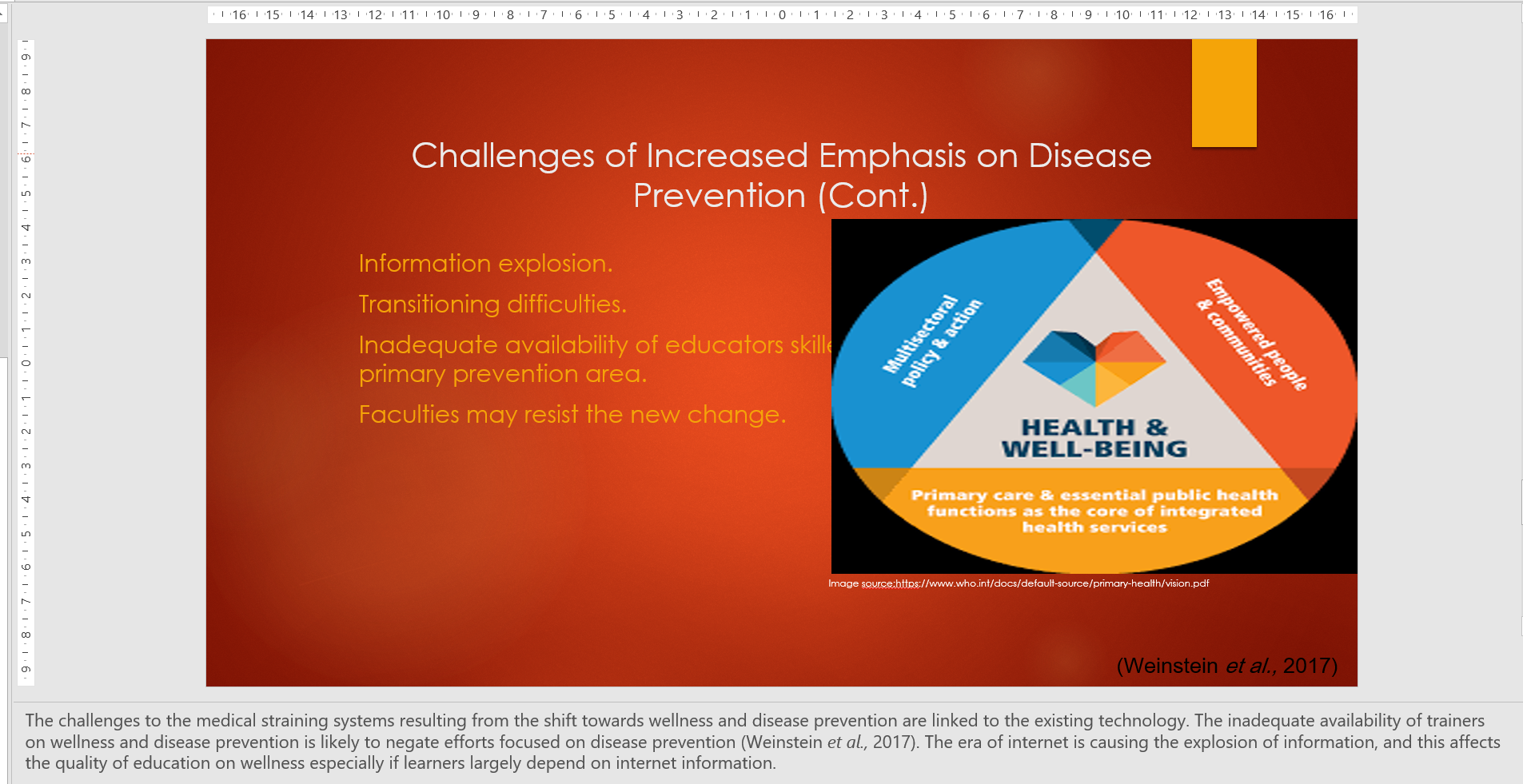 The challenges to the medical straining systems resulting from the shift towards wellness and disease prevention are linked to the existing technology. The inadequate availability of trainers on wellness and disease prevention is likely to negate efforts focused on disease prevention (Weinstein et al., 2017). The era of internet is causing the explosion of information, and this affects the quality of education on wellness especially if learners largely depend on internet information.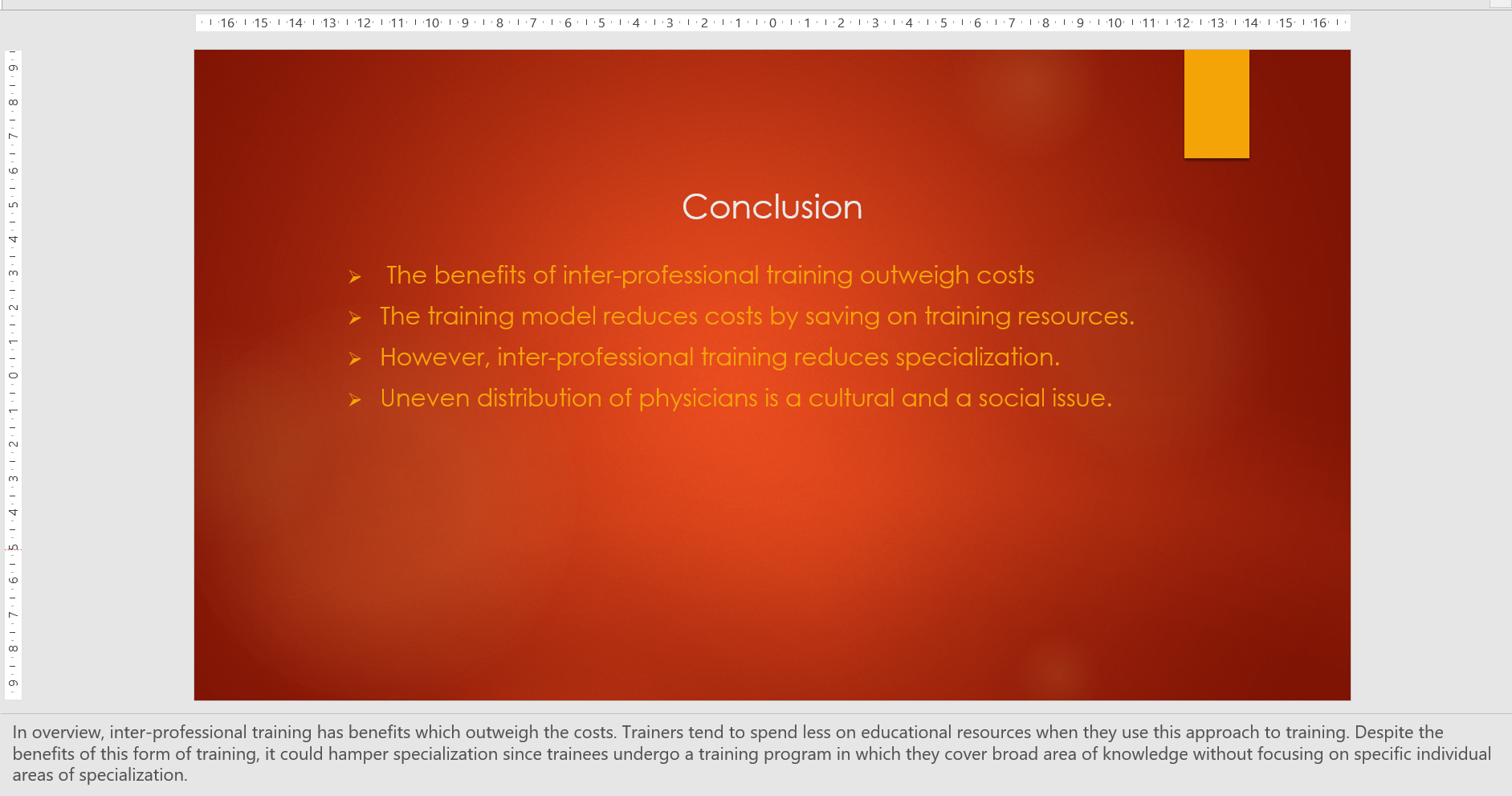 In overview, inter-professional training has benefits which outweigh the costs. Trainers tend to spend less on educational resources when they use this approach to training. Despite the benefits of this form of training, it could hamper specialization since trainees undergo a training program in which they cover broad area of knowledge without focusing on specific individual areas of specialization.
References
Quintero, G. A., Vergel, J., Arredondo, M., Ariza, M. C., Gómez, P., & Pinzon-barrios, A. M. (2016). Integrated medical curriculum: advantages and disadvantages. Journal of medical education and curricular development, 3, JMECD.S18920. Doi:10.4137/jmecd.S18920.
Sokhela, D. (2013). Why urban-rural underdeveloped communities will never develop in south africa: mooiplaas informal settlement, a relevant case study : in the front lines. Houston: Strategic book publishing and rights co.
Sultz, H. A., & Young, K. A. (2017). Health care USA: understanding its organization and delivery (9th ed.). Boston: jones & bartlett.
Theaker, E. D. (2013). Master dentistry – volume 1: oral and maxillofacial surgery, radiology, pat. Amsterdam: Elsevier health sciences.
Weinstein, J. N., Geller, A., Negussie, Y., Baciu, A., & National academies of sciences, engineering, and medicine (U.S.). (2017). Communities in action: pathways to health equity. Washington, DC: the national academies press.
Winters, C. A. (2013). Rural nursing: Concepts, Theory, and Practice. New york: springer publishing company.
Answered Questions:
ANSWERED!! Assume you are a nurse manager on a unit
ANSWERED!! Watch the Diary of Medical Mission Trip
ANSWERED!! Re-read Take a Closer Look: Exploring Claude
ANSWERED!! Develop and submit a personal leadership
ANSWERED!! Develop and submit a personal leadership
ANSWERED!! Mrs. Adams a 68-year-old widow who was
ANSWERED!! Planning is the key to successful completion
SOLVED! Design a list of 10 data elements related to the
SOLVED! Four spheres of political action in nursing
SOLVED! Case C 38-year-old Native American pregnant
SOLVED! Patient AO has a history of obesity and has recently
SOLVED! Case 3-1 You Can't Get There From Here