For this assignment, select a real company in the fast food industry. You have just been hired by (your selected company) as its new vice president of strategic planning. The corporation's performance in recent years as well as the changes with business and economic conditions will be a central focus of your new job. Given the size of the corporation and the fact that it is in a highly competitive industry, the chief executive officer (CEO) to whom you report has already given you permission to hire a staff of recent Master of Business Administration (MBA) graduates to assist you in your efforts. You recently completed the interviewing and hired four people with minimal real business experience.In coming months, you and your team will be creating a completely new—and, presumably, more effective—strategic plan. You plan to begin by holding a kick-off meeting with your team.
Deliverable Length: 1,000–1,250 words
To feel confident that all of the employees in your strategic planning team understand all that you have taught them, you require each to prepare a streamlined version of the key elements of a strategic plan. You require each employee to prepare the following sections of a strategic plan for the corporation\'s next 3-5 years:
Mission and Vision Statements (Simply copying from an existing real company is unacceptable.)
Specific, Measurable, Achievable, Realistic, and Time-Bound (SMART) Goals and Objectives
Industry Analysis
Strengths, Weaknesses, Opportunities, Threats, and Trends (SWOTT) Analysis
A Perceptual Map

Choose any criteria that you think are important to plot.
Explain why you picked the criteria.
Expert Answer and Explanation
Strategic Choices for Starbucks Company
Organizations want to be competitive to ensure their survival, and this is particularly crucial in the fast-food industry which is highly competitive. An example of such organizations is Starbucks which distinguishes itself as a major player in the global fast-food industry. Just like various companies, Starbucks strengthens its competitive edge by pursuing strategies focused on improving performance, and developing the company's brand image. When examining the level of the company's competence, one would conduct the SWOT analysis, and evaluate the industry as a whole (Eizaga et al., 2020). Part of this study also include a description of the mission and vision for the organization, and a perceptual map with pricing as a criterion.
The Company Profile
Just like most businesses, Starbucks started as a small business before expanding gradually to become a large firm that operates in international markets. The firm opened its first store in 1971 in Seattle, and 12 years after it began, the company established a new branch in Italy. From 1987, the business began expanding by opening more stores, and by 1988, it already had 33 stores with one being situated in Chicago. In 1992, the company, with 165 stores, completed its initial public offer (IPO), and this was accompanied by the opening of other businesses including the drive-thru (Starbucks, 2020). As it gradually grew, it launched various products to meet the changing consumer tastes. An example is the Cold Brew iced tea which it launched in 2015.
Mission and Vision Statements
Starbucks does not prioritize making of the profits, but instead, the company focuses on providing the best products to consumers. While the firm distinguishes itself as a maker of the best coffee, it operates a chain of fast-food stores not in the United States (U.S.) but in oversee markets. The mission and vision of the organization communicate what it wants to achieve as well as its commitments. The organization, for instance, is committed to inspiring and nurturing the human spirit, and serving coffee to individuals as well as communities (Starbucks, 2020). According to the firm's vision statement, it looks forward to being the maker of the finest coffee as it operates by the principles such as respect for the human dignity, and engaging in sustainable business practices.
SMART Goals
Starbucks wants to realize certain key goals and objectives. For example, the organization aspires to be a global leader in the fast-food business, and it hopes to meet this goal within a 10-year period. It equally wants to expand the market it serves by a half in a span of five years (von Kodolitsch et al., 2015). While it pursues strategies to meet these expectations, Starbucks hopes to be socially responsible.
Industry Analysis
Certain key features can help one determine the status of the fast-food industry. Firms can easily enter or leave the industry, and the competition is stiff within the industry. Starbucks has to compete with companies which are equally large. Some of these companies include the McDonald's and Costa Coffee. Given that the industry deals with food, the government regulates it. However, the government does not impose restrictions by regulating the industry. However, players in this industry also face parallel competition from companies which produce and sale soft drinks. Coca Cola is an example of such firms, and customers may opt for soda instead of buying the coffee.
SWOT Analysis
Strengths
Starbucks exhibits strengths which it can leverage on to grow and be more competitive. Other than being a global brand, and a popular firm, Starbucks has over 31,000 stores spread across various countries. It also has assets and financial capability to start new businesses.
Weaknesses
The company has flaws which can negatively affect its operations. For instance, it charges high prices on products, and this may cause customers to shy away. Still, it does not provide unique products which customers may want to try. These flaws can have undesirable impact on the firm (Zhu et al., 2019).
Opportunities
There are various opportunities which the firm can pursue. For instance, it can take advantage of the existing innovative ideas such as home delivery. It can also use expand operations in the developing markets.
Threats
While the company has a chance of growing, it faces threats such as the increase in the global coffee prices. It also has to deal with the threat of shortage of workers.
Perceptual Map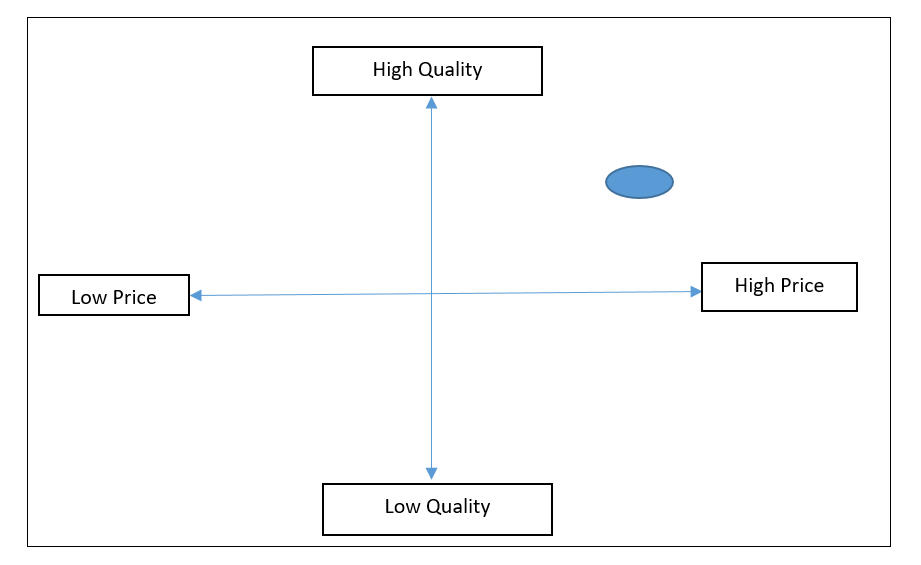 Explanation of the Choice of the Criteria
The price is the criteria used for the perceptual map, and it is used in this case because the price of the Starbucks products may fluctuate.
Conclusion
In conclusion, Starbucks, as a global fast-food business, can compete effectively in the fast-food industry given its size as well as the number of stores it operates. To continue maintaining this advantage, the company should engage in innovative practices such as door delivery to achieve its goals and objectives of expanding. It is equally imperative that the firm differentiates its products to attract and retain customers.
References
Eizaga, R., García, M. V., Fernández, M., Arroyo, F. J., Márquez, R., C. M., Carnota, M, A. I., Morales G., J., & Torres, L. M. (2020). Strengths-Weaknesses-Opportunities-Threats Analysis for a Pediatric Anesthesia Program. Pediatric quality & safety, 5(1), e254.Doi: Doi: https://doi.org/10.1097/pq9.0000000000000254.
Starbucks. (2020). Starbucks Company Timeline. https://www.starbucks.com/about-us/company-information/starbucks-company-timeline.
Starbucks. (2020). Our Mission. https://www.starbucks.com/about-us/company-information/mission-statement#:~:text=To%20inspire%20and%20nurture%20the,one%20neighborhood%20at%20a%20time.
von Kodolitsch, Y., Bernhardt, A. M., Robinson, P. N., Kölbel, T., Reichenspurner, H., Debus, S., & Detter, C. (2015). Analysis of Strengths, Weaknesses, Opportunities, and Threats as a Tool for Translating Evidence into Individualized Medical Strategies (I-SWOT). Aorta (Stamford, Conn.), 3(3), 98–107. Doi: https://doi.org/10.12945/j.aorta.2015.14.064.
Zhu, Y., Zhong, N., Su, H., Ruan, X., Bao, J., Zhang, L., Du, J., Xu, D., Ding, R., Xiao, K., & Zhao, M. (2019). Strengths, weaknesses, opportunities and threats (SWOT) analysis of reinitiation into methamphetamine abusers: qualitative findings from an exploration of methamphetamine abusers in Shanghai, China. General psychiatry, 32(3), e100062.Doi: https://doi.org/10.1136/gpsych-2019-100062.